No amount of books, parenting classes, or advice from your mother could've prepared you for the wild adventure of parenthood. Once you embark on the journey of parenthood, you immediately begin dealing with messiness, stubbornness, and drama. Lots of it. You also have to rigorously plan everything in advance, come up with creative solutions on the spot, and master the art of negotiation… or you'll end up curled in a ball on the floor, sobbing uncontrollably with clumps of your own hair in both of your fists as your child stands before you with lipstick all over his face and three popcorn kernels up his nose.
Anyone who has told you that parenting is a piece of cake has obviously never had to put a four-year-old to bed. If you can survive parenthood, you can survive anything. There's no magic secret that instantly makes parenthood an enchanting experience full of rainbows, glitter, and fluffy bunnies, but there are some hacks that will definitely make raising children at least bearable. The following ten parenting tricks will give you great little much-deserved breaks throughout your child-rearing years (and teach your children invaluable lessons to boot!)
1. Ward off monsters in your kid's room with the Monster Spray.
Got a kid who's scared of the dark? Tell him to fear no more because we have the perfect solution: the Monster Spray! This handy ol' weapon will banish the monsters from the closet, dark corners, under the bed, or any other hiding spot in your child's bedroom. It will be your child's weapon of choice until he decides that monsters are no longer a threat to him.
Here's how you can make one: Take an old empty Febreze or Glade spray bottle and fill it with water. You can add an essence oil to create a scent that will let your child know that the Monster Spray is in full force (and to make the room smell good!) Spray it around the room right before bedtime, and leave it by your child's side in case he feels the need to scare off the bad guys in the middle of the night.
2. Every time your kid complains about being bored, make her pick an activity from the "I'm bored" jar.
"Moooooom, I'm bored!"/"Daaaaaaaad, there's nothing to do!" Those are the dreaded words no parent ever likes to hear, but it's said all too often. Instead of snapping at your child to find something to do, simply make her pick an activity from the "I'm bored" jar. Some activities may be fun, like drawing on the sidewalk with chalk; others may be tedious, like sweeping the kitchen floor. If you include more chores than fun activities in the jar, your child will eventually stop complaining about being bored and instead come up with an activity on her own simply because she doesn't want to put herself in a situation where she has to do chores. Problem solved!
3. Create value-assigned tasks to make your kid actually want to do chores.
Let me tell you something I learned as a freelance writer. When you get paid by the project, you're more likely to do a phenomenal job. It's because your work will be judged on an individual basis, and your payment may be withheld if you don't do a decent enough job. This doesn't apply to nine-to-fivers who get paid a salary or even by the hour. They know they'll get paid anyway, so they'll just drag themselves to work and do everything half-heartedly while counting down the minutes until it's time for them to go home.
This mindset certainly applies to children, as well. If you give your kid a list of weekly chores and tell him that he'll get $10 every week, you bet he'll coast by and cut corners whenever he can. Why bother doing a phenomenal job if he's going to get paid anyway? To solve this problem, create value-assigned chores. This way, your kid will get to choose his own chores, be motivated to do his absolute best, and make as much money as he wishes. This is a great way to teach your kid the value of hard work.
If you're concerned about the high cost of toys these days, you can buy toys you know your kid likes and have a "house store" with your own (deeply discounted) prices for your child to "shop at" whenever he has enough money saved up. Just be sure to keep the toys out of your child's reach!
4. Trace your kid's feet on a piece of paper so you don't have to drag her along next time you go shoe shopping.
Any parent would agree that shopping with a child is not fun at all. It's so stressful and time-consuming that shopping alone is considered a vacation! Treat yourself to a shop-vacation more often by doing this little trick: trace your kid's feet for when you need to buy shoes for her. If you consider shopping with a child to be a whole new level of hell, you can also trace her torso (for shirts) or lower body (for pants/shorts). A few pieces of paper is much easier to tote around the store than a screaming, crying, or grabby kid!
5. Hold onto an embarrassing picture of your kid to use as blackmail in the future.
Your baby may be a perfect little angel right now, but you have to keep in mind that she'll turn into a teenager one day. Just one embarrassing picture of your kid could be enough to settle many future arguments. Mark my words: this is your secret weapon. Handle it wisely.
6. Every time your teenager forgets to wear his seat belt, make him wait an additional day past his 16th birthday before he can take his driver's test.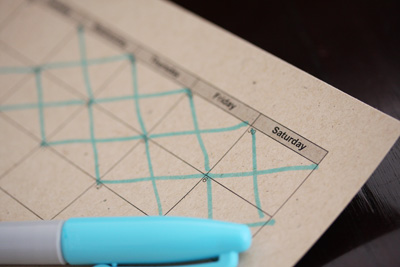 This rule may elicit many "I hate yous" or a big shiny "worst parent in the world" badge, but it will save your child's life if he ever gets in a car accident in the future. Before your child gets his driver's license, he needs to make a habit out of wearing his seat belt. Enforcing this tough rule is far easier than dealing with a seriously injured child (which I hope will never, ever happen).
7. When you're trying to get your kid to do something she doesn't want to do, challenge her to a race or a contest (and let her win!)
Kids hate being forced to do things, but they love being 
challenged.
There's a difference here, folks. If your kid refuses to leave the toy store, simply say, "I bet I can beat you to the car!" Always let your kid win (because if he loses, he'll be even more upset). He'll be so excited about winning that he'll forget he was even upset in the first place. If you're dealing with the world's most stubborn kid, add a prize to the mix. Say something like, "the winner will get to pick the movie tonight" or "the winner will get to go to the playground tomorrow". If a child refuses to touch her peas even after being challenged to a pea-eating contest, imagine her disappointment when Daddy wins and goes to the "playground" the next day! You bet her competitive spirit will kick in before the next challenge rolls around! However, be sure not to make a game out of
everything
, because you don't want your kid to expect a reward every time she does something she doesn't want to. Choose your battles wisely.
8. Whenever your kid begs for candy or a toy at the store, tell him to add it to his birthday or Christmas list.
If your kid really, really,
really
wants the toy or candy in question, he will make a mental note and create a birthday or Christmas list as soon as he can. More often than not, your kid will have already forgotten about the toy or candy by the time you get home from the store. This effective line is a great way to help your kid set a goal (get the toy when Christmas or his birthday rolls around) and to get him to stop whining, pleading, or screaming at the store. As a bonus, if you're presented with an actual birthday or Christmas list, you will have a clear idea of what your kid
really
wants.
9. To encourage your kid to eat more fruits and vegetables, let him pick a fruit or vegetable every time you go grocery shopping.
When you award your kid the important task of picking out the fruit or vegetable of the day/night/week, he'll be more inclined to enjoy it when you serve it. It's because you're letting him have a say in the matter. If your child objects to the bowl of grapes you set on the table (instead of, let's say, potato chips), it can't hurt to put him on a little guilt trip. "But honey," you can say. "You picked these out at the store, remember? I bought them because I thought you would enjoy them."
Here's another little tip: serve the fruits or vegetables first. They're more likely to be eaten when your kid is still hungry.
10. Store your kid's bath toys in a hanging fruit basket.
Wet bath toys are the bane of many parents' existences. They leave puddles all over the floor and there's not much you can do to dry them out without leaving them scattered all over the place. Hanging a fruit basket over the bathtub is such an easy solution that parents everywhere are smacking their own foreheads right now.
Do you have any more clever parenting hacks you'd like to share with us? If so, please leave a comment and spread the gospel!